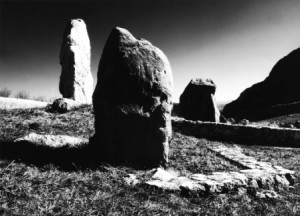 In 1979, de Conciliis was commissioned by the regional government of Sicily to build a memorial in honor of eleven peasants who were massacred near Palermo in 1947 at a peaceful demonstration for land reform.
The resulting monument, Portella della Ginestra, was the first example of land art in Italy.
The Memorial is semicircular and enclosed by a low stone wall that was constructed without the use of mortar. One enters the Memorial by way of a stone pathway that extends for forty meters.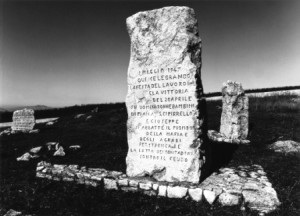 Working physically with the earth, de Conciliis sculpted eleven huge boulders that were already present in the area. Some are erect, like menhirs, and others are arranged like an enormous mass scattered at random over the landscape.
Each of the stones, which ranges from two to six meters in height, marks the place where one of the eleven victims fell. Many are also inscribed with poems.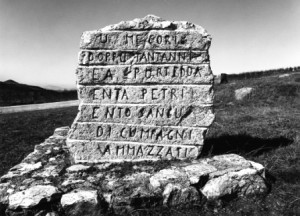 In describing the influence the experience had on his art, de Conciliis writes:
Portella della Ginestra is important in my career because it marks the moment in which I quit painting murals composed of figures and portraits and began concentrating on landscapes. Because this was a land art work, it was an opportunity to work directly with the earth and the natural landscape without the filter of the canvas.